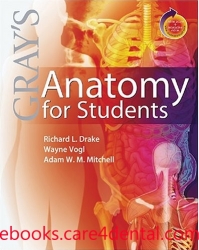 Gray's Anatomy for Students (pdf)
Author : Richard Drake, A. Wayne Vogl, Adam W. M. Mitchell, Wayne Vogl


This completely new addition to the Gray's Anatomy family is specifically tailored to meet the needs of today's anatomy students. A team of authors with a wealth of diverse teaching and clinical experience have carefully crafted the book to efficiently cover the information taught in contemporary anatomy courses. A user-friendly format, a regional organization, and outstanding artwork make mastering anatomy remarkably easy. Unique coverage of surface anatomy, correlative diagnostic images, and clinical case studies demonstrate practical applications of anatomical concepts. STUDENT CONSULT offers convenient and versatile online access to the book's content plus interactive exercises and more. And, an international advisory board, comprised of more than 100 anatomy instructors, ensures that the material is accurate, up to date, and easy to use.
The smart way to study!
Elsevier titles STUDENT CONSULT will help you master difficult concepts and study more efficiently in print and online! Perform rapid searches. Integrate bonus content from other disciplines. Download text to your handheld device. And a lot more. Each STUDENT CONSULT title comes with full text online, a unique image library, case studies, USMLE style questions, and online note-taking to enhance your learning experience.

More than 1,000 innovative original illustrations capture anatomical features with unrivalled clarity. Consistent use of color makes body structures easy to locate and remember from one illustration to another.
Over 300 photographs and radiological images depict surface anatomy and common clinical applications of anatomic knowledge.
A regional organization features separate units on the back, thorax, abdomen, pelvis and perineum, lower limb, upper limb, and head and neck.
Conceptual overviews summarize each body region's component parts, their functions, and their relationship to other bodily organs.
Clinical cases underscore the real-life relevance of the material.
An online version of the book allows users to conduct advanced searches · download all of the illustrations · access interactive illustrations and exercises · and much more.
Online courseware provides instructors with ready-to-use teaching modules as well as a complete test bank.
Your purchase of this book entitles you to access www.studentconsult.com at no extra charge. This innovative web site offers you...
Access to the complete text and illustrations of this book.
Integration links to bonus content in other STUDENT CONSULT titles.
Content clipping for your handheld.
An interactive community center with a wealth of additional resources.
The more STUDENT CONSULT titles you buy, the more resources you can access online!
Look for the STUDENT CONSULT logo on your favorite Elsevier textbooks!