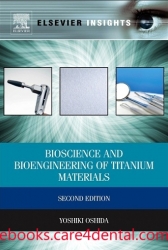 Bioscience and Bioengineering of Titanium Materials, 2nd Edition (pdf)
Author : Yoshiki Oshida


This updated, comprehensive publication reviews the latest findings and helps medical and dental practitioners understand when and how to use titanium in various biomaterials applications.

The second edition of Bioscience and Bioengineering of Titanium Materials is an essential resource for anyone researching titanium in its fundamental aspects and in medical/dental applications. The book organizes and processes the findings from over 2,000 published articles and studies into a coherent and easily accessible volume, deftly weaving together older and newer technologies to give a clear overview. Bridging the gap between medical/dental and engineering/technology areas, the book covers material classification, fabrication and modification, as well as applications and biological reactions to titanium implants.

The author, with extensive work in academics and industry, helps medical practitioners and students answer many practical questions, including: What is titanium? What type of titanium materials should I use in this case? How can I fabricate my design using titanium? Are there any alternative materials or methods? In the second edition, macro-, micro-, and nano-texturing of titanium surfaces, tissue engineering-related materials including scaffolds, and functionally graded materials and structures are extensively included and analyzed.

Readership: Materials scientists, students, and engineers working in biomaterials research and applications.