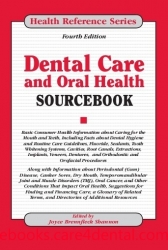 Dental Care and Oral Health Sourcebook (pdf)
Author : Joyce Brennfleck Shannon


Basic Consumer Health Information about Caring for the Mouth and Teeth, Including Facts about Dental Hygiene and Routine Care Guidelines, Fluoride, Sealants, Tooth Whitening Systems, Cavities, Root Canals, Extractions, Implants, Veneers, Dentures, and Orthodontic and Orofacial Procedures; Along with Information About Periodontal (Gum) Disease, Canker Sores, Dry Mouth, Temporomandibular Joint and Muscle Disorders (TMJ), Oral Cancer, and Other Conditions That Impact Oral Health, Suggestions for Finding and Financing Care, a Glossary of Related Terms, and Directories of Additional Resources

The Centers for Disease Control and Prevention (CDC) reports that millions of children experience problems from untreated tooth decay and that one-fourth of adults over 65 have lost all of their teeth. Most adults over age 24 have some gum disease which may lead to nutrition problems and may affect health conditions such as diabetes. While researchers seek ways to re-mineralize teeth and disrupt tooth decay processes, prevention is still the best way to maintain optimal oral health. Keys to good oral health include effective hygiene, fluoridated drinking water, fluoride treatments, sealants, and regular dental visits.

Dental Care and Oral Health Sourcebook, Fourth Edition offers updated information about mouth and tooth care guidelines for effective hygiene, nutrition, and decay prevention. Facts about tooth pain, dental fillings, orthodontia, cosmetic procedures, root canals and other endodontic treatments, and dental implants are described. Pediatric preventive treatments, sports injury prevention, and cleft palate treatments are discussed. Disorders such as halitosis (bad breath), temporomandibular joint and muscle (TMJ) disorder, other jaw disorders, mouth sores, and health conditions that impact oral health are also addressed. The book concludes with guidelines for finding and financing dental care, a glossary of dental care terms, and directories with further information about dental care and oral health services.