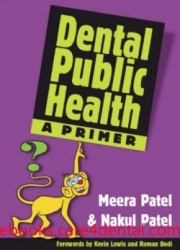 Dental Public Health, A Primer (pdf)
Author : Meera Patel and Nakul Patel


Most dental students dread revising dental public health (DPH) as they find it tedious and mind-numbing. Nevertheless, the subject is full of fascinating concepts and ideas that may appear a bore over reams of picture-less pages lined with icroscopic black text. In retaliation, we have transformed the subject matter into an easily digestible pictorial format that develops and maintains the interest of the reader.
The naive first-year dental student may perceive the subject as irrelevant, however, it is only later that they come to appreciate the implications of public health issues and concepts such as 'prevention rather than cure'. As Downer (1994) described, DPH is the science and art of preventing oral disease, promoting oral health and improving the quality of life through the organised efforts of society.
As the book title suggests, this is an introductory textbook and certainly not a definitive guide to the subject. It does however cover all the major aspects that would be expected of an undergraduate dental course. This textbook should be supplemented with course notes and additional core textbooks should more detailed explanation be needed. Although primarily targeted at undergraduate dental students it can be used by general dental practitioners, lecturers and other allied health professionals as a quick cross-reference guide or for teaching.
The book can be used at home, university, in the clinic or even on the bus or train. It can be used as a revision guide for examinations. It can be used as a beginner's guide to DPH issues for the relative novice.
This book is very simple to follow and understand, covering the core concepts of DPH. We have incorporated mnemonics and acronyms. Also ideas and theories have been illustrated with lots of colourful pictures. This will help students retain what they learn for the rest of their lives! We aim to make what is perceived to be a boring dental subject, fun to learn!