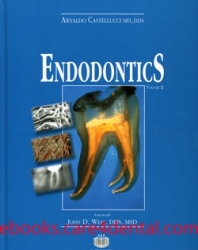 Endodontics, Volume 2
Author : Arnaldo Castellucci


The text is divided into 3 volumes and 35 chapters.
The best endodontic textbook is now available in English, completely revised with new chapters and many more color illustrations.
EndodonticS, 2nd Edition, comes complete with its own CD-Rom, which comprises the complete text and illustrations in PDF-files.

Key features (volume 1)
• Format cm 22×28
• 12 Chapters
• 370 Pages
• 741 Color photographs
• 608 Black&White photographs
• ISBN 88-89411-00-7

The textbook is printed in three separate volumes. Right now, the first volume is available with the CD. The second volume will become available before Summer and the third one before the end of the year. Once the three volumes have been printed, they will not be sold separately.