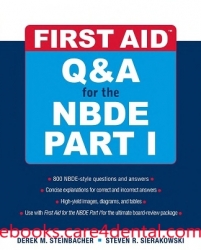 First Aid Q&A for the NBDE, Part I (pdf)
Author : Derek M. Steinbacher, Steven R. Sierakowski


First Aid Q&A for the NBDE, Part I
Pass the National Board Dental Exam with flying colors
At last the proven First Aid formula for exam success comes to the rescue of dental students in this first-ever book format review for the NBDE Part I. Written for students by students who've personally experienced the exam, and reviewed by top dental school faculty and practitioners, it puts at your fingertips

What-to-study guidance for the most frequently tested topics in anatomic sciences, biochemistry and physiology, microbiology and pathology, dental anatomy and occlusion. .
Confidence-building, performance-enhancing test-taking strategies. .
200 black-and-white illustrations, plus an 8-page full-color insert with the must-know images you're most likely to encounter on exam day. .
THE ONLY GUIDE FOR DENTAL STUDENTS WRITTEN BY EXAM TAKERS WHO'VE ACED THE BOARDS

First Aid for sailing through all 8 hours of the NBDE Part 1

Earn top scores with the book's special insider tips and concentrated focus on high-yield topics. .
Save time and boost memory and recall with highlighted facts and mnemonics. .
Great for both initial and last-minute exam review.