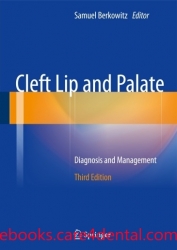 Cleft Lip and Palate: Diagnosis and Management, 3rd Edition (pdf)
Author : Samuel Berkowitz


Cleft Lip and Palate: Diagnosis and Management, 3rd Edition
an unparalleled review of treatment concepts in all areas of cleft involvement presented by an international team of experienced clinicians. A unique feature of the book is that it largely consists of longitudinal facial and palatal growth studies of dental casts, photographs, panorexes, and cephalographs from birth to adolescence. Throughout the discussion of growth and treatment concepts, the importance of differential diagnosis in treatment planning is underscored. The underlying argument is that all of the treatment goals – good speech, facial aesthetics, dental occlusion, and psychological development – may be realized without the need to sacrifice one for another.

In this third edition, further successful physiological treatment protocols are considered and the occurrence and prevention of relapses after some surgical treatments are discussed; again, all solutions are backed up by follow-up records. Additional topics not previously covered include strategies for coping with psychological effects on patients and intra-team conflict, the excellent clinical work being undertaken in Asia, and future multicenter palatal growth studies. It is the editor's hope that, by drawing on the wealth of experience contained in the book, clinicians will be better able to evaluate current treatment practices and concepts and to improve planning of their own treatment procedures.