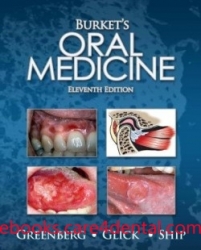 Burket's Oral Medicine, 11th Edition (pdf)
Author : Martin S. Greenberg , Michael Glick, Jonathan A. Ship


The eleventh edition of Burket's Oral Medicine remains a comprehensive text of medical disease affecting the mouth that is ideal for use by students and residents.

The text is written by a group of over forty internationally respected experts in the field and includes 23 chapters covering all major aspects of oral medicine.

The eleventh edition contains new chapters covering Pharmacology, Headache and Genetics and has all new color illustrations and figures. The text is accompanied by a CD, which will contain case reports for each chapter and an expanded bibliography.