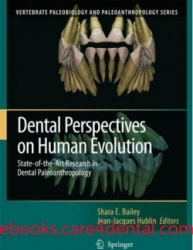 Dental Perspectives on Human Evolution: State of the Art Research in Dental Paleoanthropology (pdf)
Author : Eric Delson, Ross D.E. MacPhee


Full name: Dental Perspectives on Human Evolution: State of the Art Research in Dental Paleoanthropology

Series: Vertebrate Paleobiology and Paleoanthropology

The objective of the volume is to bring together, in one collection, the most innovative dental anthropological research as it pertains to the study of hominid evolution. In the past few decades both the numbers of hominid dental fossils and the sophistication of the techniques used to analyze them have increased substantially. The book's contributions focus on dental morphometrics, growth and development, diet and dental evolution.