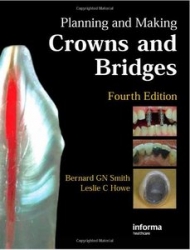 Planning and Making Crowns and Bridges 4th edition (pdf)
Author : Bernard G.N. Smith


Review :

'The greatest strength of the book lies in the sensible and comprehensive way it provides descriptions of clinical procedures', British Dental Journal

'Well thought-out and exceedingly well presented … I can wholeheartedly recommend this work as a worthwhile addition to any practitioner's bookshelf', British Dental Review

'Must be considered a "best buy" for every practitioner interested in a planned approach to crown and bridgework', Dental Update

Product Description :

This highly successful text, which has achieved wide acclaim among practitioners and is a recommended text in the major dental schools, has again been revised and updated to keep it at the forefront of clinical practice. As before, the intention is to help solve real clinical problems by guiding dentists to make the right initial decision and then carry it through. This new edition includes significantly expanded material on veneers and implants in particular, so as to help dentists advise patients in their choice of what to do and how to make informed choices.